Especificação do produto
O newest blue travel cot on wheels is an innovative product specially designed for young parents, using high-quality materials to ensure that the baby is always safe, comfortable and happy. This bassinet is designed so that your baby can sit or lie down easily, which is very important for your baby's growth and development. At the same time, the product is also equipped with wheels, making it easy to carry and move, you can use it at home, on the street or on a trip to provide the best care for your child.
The blue travel cot is made of soft material, so that the baby is always in a soft and comfortable environment. It also comes with an adjustable headrest and waist belt to ensure baby is always in the correct position. Plus, it comes with a seat belt that keeps your baby securely in the bassinet at all times.
Este produto também possui um ângulo de inclinação ajustável, permitindo que você ajuste o ângulo de acordo com as necessidades do seu bebê. Isso é muito importante para o sono e descanso do seu bebê. Além disso, o berço possui uma capa de sol removível para proteção extra e privacidade para o bebê.
Best of all, the multifunctional bassinet with wheels is very easy to carry and move. It is lightweight and portable, and can be used anytime, anywhere. The product is also equipped with lockable wheels to keep your baby safe while allowing you to easily move the bassinet to a different position when needed.
Em conclusão, o berço sobre rodas é um produto de alta qualidade, confortável, seguro e portátil, ideal para os pais novatos prestarem os melhores cuidados. Ele atende às necessidades de você e seu bebê para o máximo conforto e conveniência.
Atributos
O berço de viagem azul é feito de materiais de alta qualidade e seguros para o seu bebê. Ele foi projetado para ser durável, leve e fácil de mover. O berço vem em uma linda cor azul que é perfeita para qualquer decoração de berçário. O produto mede 35 cm de comprimento, 23 cm de largura e 28 cm de altura.
| | |
| --- | --- |
| Item número.: | KSF168Q |
| Desdobrar tamanho: | 92X58X70cm |
| Material: | Alumínio+Ferro+PP+Tecido de linho |
| Acessório: | Colchão+balanço |
| Tamanho da dobra: | 60X20X63cm |
| NW: | 7,29KG |
| GW: | 8,3KG |
| Embalagem: | 1 peça/caixa |
| Certificado | EN1130, ASTM F2194. |
Função do produto
Zíper removível: facilite a limpeza quando estiver sujo. retire a capa de tecido, pode ser lavado na máquina de lavar.

Tecido de malha de 4 lados: circulação de ar, o bebê tem uma visão melhor deitado no berço.

Design quadrado: aumenta o volume do berço, mais espaço para o bebê brincar e dormir.

Colchão com suporte de espuma e tábua, superfície pele de pêssego: toque mais suave.

Função de balanço: o tubo de balanço pode ser girado para usar ou parar. Há um bloqueio para liberar a função de balanço. Quando não precisar do balanço, basta girar para travar para garantir a segurança.

4 rodas embutidas: 4 rodas ocultas, não só garantem a segurança, mas também facilitam a movimentação.

O ângulo de inclinação: uso multifuncional: para alimentação do bebê e troca de fraldas.
Vantagens
The Blue Travel Crib offers several advantages, with its portability being a key feature. The crib is designed to be easily movable, allowing you to keep your baby close to you no matter where you are in the house. Whether you need to work in the home office, prepare meals in the kitchen, or relax in the living room, you can bring the crib along and provide a safe and comfortable space for your baby nearby.
The ease of assembly and disassembly is another notable advantage of the Blue Travel Crib. When you need to travel or move the crib to a different location, you can quickly take it apart and pack it up. This convenience saves you time and effort, making it hassle-free to transport the crib. It's especially useful when you're on the go and need to set up a comfortable sleeping space for your baby in a different environment.
Comfort is a priority in the design of the Blue Travel Crib. The bassinet features soft padding that provides a cozy sleeping surface for your baby. The gentle rocking motion of the crib helps lull your baby to sleep, creating a soothing and calming environment. This feature can be particularly beneficial when trying to settle your baby for naps or bedtime.
Additionally, the Blue Travel Crib is equipped with air mesh sides. These mesh panels promote excellent airflow, ensuring proper ventilation within the crib. This ventilation helps to keep your baby comfortable and cool, preventing overheating during sleep or playtime.
In summary, the Blue Travel Crib offers advantages in terms of portability, assembly/disassembly convenience, and comfort. Its easy movability allows you to have your baby close to you wherever you are in the house. The crib's quick assembly and disassembly make it ideal for travel purposes. The soft padding and gentle rocking motion provide comfort and relaxation for your baby. Furthermore, the air mesh sides ensure adequate airflow, keeping your baby cool and comfortable.
Formulários
O berço com rodas é perfeito para uso em uma variedade de configurações. Para novos pais, oferece um espaço de dormir seguro e confortável para seu bebê ao lado de sua cama. As rodas facilitam a movimentação do berço conforme necessário, para que você possa manter seu bebê sempre por perto.
O berço de viagem azul também é ótimo para usar como berço de viagem. Se você está planejando uma viagem com seu bebê, pode levar o berço junto para garantir que seu filho tenha um espaço confortável e familiar para dormir, não importa onde você vá. O tamanho compacto do berço facilita a embalagem e o transporte.
Portabilidade e facilidade de uso
O berço multifuncional sobre rodas é um produto projetado para ser portátil e fácil de usar. Seu design leve combinado com suas rodas facilitam a movimentação pela casa sem esforço. Você pode facilmente levar o berço para o seu quarto à noite para poder cuidar do seu bebê enquanto ele dorme. Durante o dia, você pode movê-lo para diferentes partes da casa para que seu bebê possa tirar uma soneca ao seu lado enquanto você faz sua rotina. Como o berço é fácil de montar e desmontar, ele pode ser desmontado rapidamente se você precisar fazer as malas para uma viagem.
Design aconchegante e confortável
Quando se trata do ambiente de sono do seu bebê, o conforto é fundamental. ele é projetado para fornecer um espaço de dormir aconchegante e confortável para o seu bebê. O acolchoamento macio e o movimento suave de balanço acalmarão seu bebê para dormir, permitindo que ele tenha o descanso necessário para crescer e se desenvolver. Os lados de malha respirável permitem muita ventilação, garantindo que seu bebê fique confortável e fresco. Além disso, o dossel ajustável fornece sombra e proteção contra a luz para ajudar seu bebê a dormir melhor.
Espaço seguro para dormir para seu bebê
O berço de viagem azul foi concebido para proporcionar um espaço de sono seguro para o seu bebé. É feito de materiais de alta qualidade livres de substâncias nocivas, garantindo que seu bebê não seja exposto a toxinas ou produtos químicos. As laterais do berço são feitas de malha respirável, o que permite um amplo fluxo de ar e reduz o risco de sufocamento. O berço também possui uma estrutura resistente que o mantém no lugar, evitando que caia ou caia.
Aplicações versáteis do berço com rodas
Uma das melhores coisas sobre ele é a sua versatilidade. Pode ser usado em muitas configurações diferentes, tornando-se um excelente investimento para qualquer novo pai.
dorminhoco de cabeceira
Como um dorminhoco, o berço com rodas permite que você mantenha seu bebê por perto enquanto você dorme. Isso facilita alimentar e confortar seu bebê durante a noite, sem ter que sair da cama. As rodas facilitam a movimentação do berço para mais perto de sua cama, para que você possa manter seu bebê ao alcance do braço.
berço de viagem
também é uma ótima opção de viagem. É compacto e leve, facilitando o transporte no carro ou no avião. As rodas facilitam a manobra em aeroportos ou saguões de hotéis, e a montagem e desmontagem rápidas facilitam a instalação em qualquer local.
cercadinho
Por fim, o Berço com Rodas também pode ser usado como cercadinho. A estrutura robusta e o colchão confortável o tornam um excelente lugar para o seu bebê brincar e explorar, mantendo-se seguro e protegido. O dossel ajustável fornece sombra e proteção contra a luz, tornando-o um ótimo local para brincar ao ar livre também.
O berço com rodas é uma solução de sono versátil e de alta qualidade projetada para recém-nascidos e bebês. Possui diversas características que o diferenciam dos demais berços do mercado, como colchão de apoio, tecido macio e capa removível e lavável. Portátil, versátil e fácil de usar, este berço é uma ótima escolha para famílias ocupadas. Se você precisa de uma solução de sono para uso diário ou para viagens, o berço com rodas é uma ótima opção para pais que procuram proporcionar um ambiente de sono seguro e confortável para seu recém-nascido ou bebê.
Em conclusão, o Berço com Rodas é um excelente investimento para novos pais que desejam proporcionar ao seu bebê um espaço seguro, confortável e conveniente para dormir. Sua portabilidade, conforto, segurança e versatilidade o tornam um item obrigatório para qualquer berçário. Esteja você usando-o como uma cama de cabeceira, berço de viagem ou cercadinho, pode ter certeza de que seu bebê ficará feliz, confortável e bem descansado no berço com rodas.
Método de dobra

Como usar a função de balanço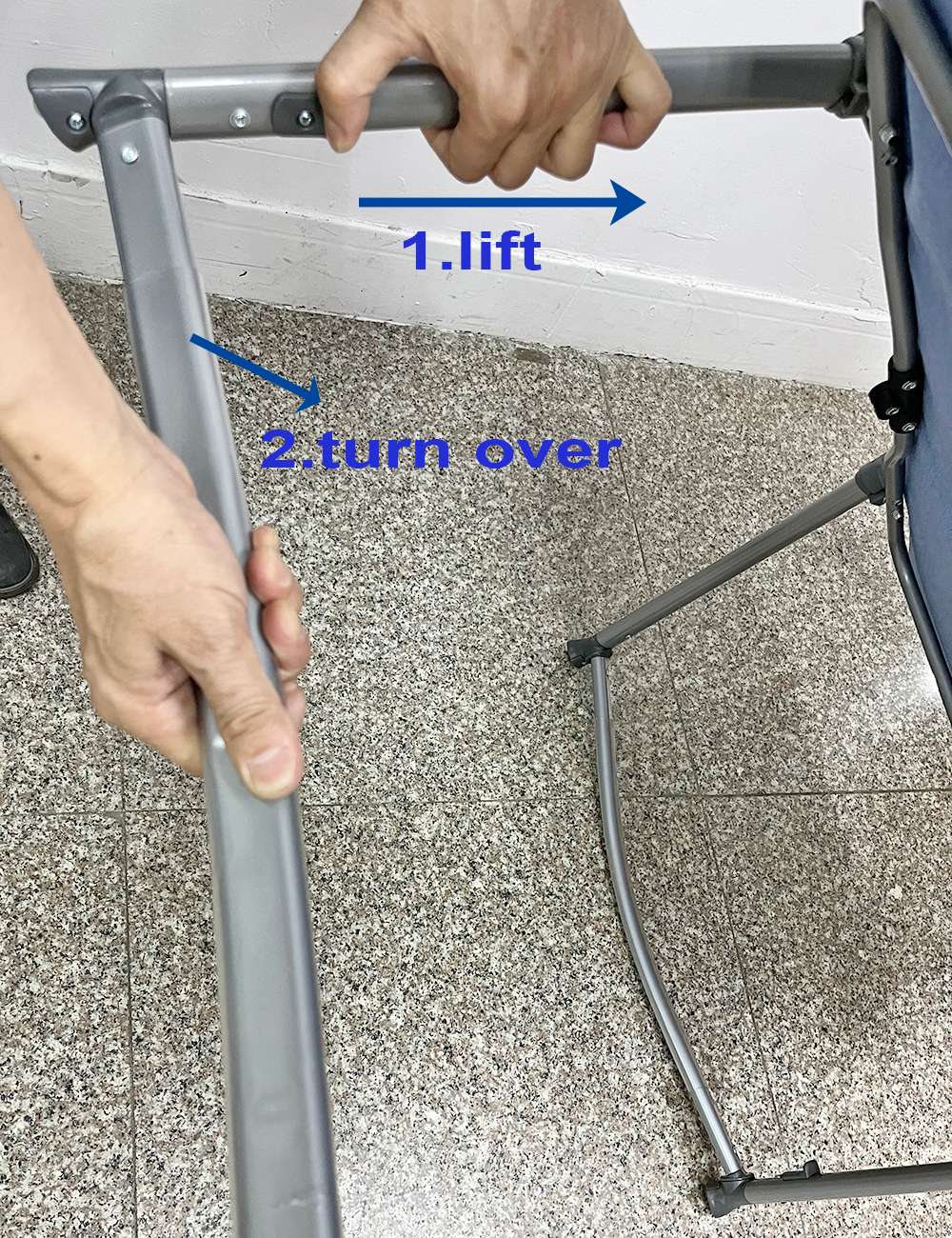 Vantagens
Visão de fábrica
Informações de contato
Entre em contato conosco para discutir mais.
Pessoa de contato: Kathy Xiang
E-mail: sales@ksfbaby.com
Traveling, whether for leisure or business, is an exciting pursuit that opens up a world of possibilities. However, one aspect that often goes overlooked is ensuring you get a good night's sleep during your journey. This is where a blue travel cot comes into play, transforming your travel experience by providing a comfortable and secure place to rest. In this comprehensive guide, we'll dive deep into the world of travel portable cots, exploring their product details, advantages, and how they can make your adventures more restful.
Chapter 1: The Blue Travel Cot Revolution
Travel portable cots have gained immense popularity in recent years for their versatility and convenience. These compact sleeping solutions are designed to be portable, lightweight, and easy to set up, making them the perfect choice for anyone on the move. Let's take a closer look at what sets these travel cots apart.
Product Features:
Compact Design: Blue travel cots are designed to be compact and foldable, allowing for easy transportation and storage.

Sturdy Construction: Despite their portability, these cots are built to be robust and durable, ensuring long-lasting use.

Comfortable Mattress: Many travel portable cots come with comfortable mattresses, providing a cozy sleeping space for a good night's rest.

Easy Setup: These cots can be set up quickly and effortlessly, making them ideal for travelers on the go.

Safety First: Travel cots are designed with safety in mind, with features like secure locking mechanisms and breathable materials.
Chapter 2: Advantages of Blue Travel Cots
Travel portable cots offer a range of advantages that make them a must-have for any traveler. Here are some key benefits:
1. Portability:
One of the primary advantages of travel portable cots is their portability. They are lightweight and compact, making them easy to carry, whether you're traveling by car, train, or plane.
2. Comfort:
Many blue travel cots come with comfortable mattresses and padding, ensuring that you get a good night's sleep even when you're away from home.
3. Versatility:
These cots are versatile and can be used for various purposes. They are ideal for camping trips, visiting friends and family, or as a backup sleeping solution at home.
4. Safety:
Travel portable cots are designed with safety in mind, featuring secure locking mechanisms and durable construction. This ensures your little one sleeps safely.
5. Quick Setup:
Setting up a travel portable cot is a breeze. You can have a comfortable sleeping space ready in just minutes, allowing you to focus on your adventures.
6. Durability:
These cots are built to last, with sturdy construction and materials that can withstand the rigors of travel.
Chapter 3: Exploring Blue Travel Cot Options
There are various travel portable cot options available on the market, catering to different preferences and needs. Let's explore a few popular choices:
1. Compact Travel Cot:
Ideal for frequent travelers, compact travel cots are designed to be space-saving and lightweight. They are easy to carry and set up, providing a cozy sleeping space for your journeys.
2. Baby Travel Cot:
If you're traveling with an infant, a baby travel cot is the perfect solution. These cots are designed with the utmost safety and comfort for your little one.
3. Camping Travel Cot:
For outdoor enthusiasts, a camping travel cot offers a comfortable sleeping space while you're exploring the great outdoors. These cots are rugged and built to withstand rough conditions.
4. Toddler Travel Cot:
For families with toddlers, a toddler travel cot provides a secure and comfortable sleeping environment. These cots are often equipped with added safety features.
Chapter 4: Setting Up Your Blue Travel Cot
One of the significant advantages of travel portable cots is their ease of setup. Here are the general steps to set up a standard travel portable cot:
Unfold the Cot: Start by unlocking and unfolding the cot frame. Ensure that all the parts click into place securely.

Attach the Mattress: Many travel portable cots come with a comfortable mattress. Place the mattress at the bottom of the cot.

Secure the Base: Ensure the base is securely locked in position to provide a stable sleeping surface.

Test for Stability: Gently shake the cot to confirm that it's set up sturdily and that all the locking mechanisms are engaged.

Add Bedding: Customize the cot with your preferred bedding, such as sheets and blankets, to create a cozy and comfortable sleeping space.
Chapter 5: Maintaining and Cleaning Your Blue Travel Cot
Proper maintenance and cleanliness are essential to ensure the longevity and comfort of your travel portable cot. Here are some tips:
Regular Cleaning: Wipe down the cot frame and mattress with a damp cloth to remove dirt and stains. Use a mild detergent if needed.

Mattress Care: Air out the mattress regularly to prevent odors and mold. You can also invest in a mattress protector for added hygiene.

Storage: When not in use, store your travel portable cot in a dry and cool place. Ensure it's folded and stored properly to prevent damage.

Check for Wear and Tear: Regularly inspect the cot for any signs of wear and tear, such as loose screws or damaged parts. Replace or repair as needed.
Chapter 6: Innovative Blue Travel Cot Accessories
Enhance your travel cot experience with a range of innovative accessories designed to add convenience and comfort to your journeys:
1. Travel Cot Bag:
A travel cot bag is a convenient accessory for transporting your cot. It keeps your cot protected and makes it easy to carry.
2. Mosquito Net:
When traveling to areas with mosquitos, a mosquito net can help keep your sleeping space bug-free and comfortable.
3. Travel Cot Playpen:
Some travel portable cots can double as playpens, offering a secure space for your little one to play and nap.
4. Travel Cot Canopy:
A canopy can provide shade and privacy, making your cot more versatile for outdoor use.
Chapter 7: Blue Travel Cot Safety Considerations
Safety is paramount when using a blue travel cot, especially when it comes to infants and young children. Here are some safety considerations:
Always follow the manufacturer's instructions for setup and use.

Check for any recalls or safety updates related to your travel cot model.

Ensure that the cot is set up on a flat and stable surface.

Use a firm mattress that fits the cot properly.

Keep the cot away from potential hazards, such as cords, curtains, and other objects.

Check that all locking mechanisms are engaged before placing your child in the cot.

Never leave your child unattended in the cot.
Chapter 8: Choosing the Right Blue Travel Cot
Selecting the right blue travel cot depends on your specific needs and preferences. Consider the following factors:
Purpose: Determine the primary use of the travel cot, whether it's for infants, toddlers, camping, or general travel.

Size: Ensure the cot's dimensions fit your available space and transportation options.

Features: Look for features like a comfortable mattress, safety mechanisms, and ease of setup.

Durability: Opt for a cot with sturdy construction and materials that can withstand the demands of your travel adventures.

Budget: Set a budget for your travel portable cot purchase and explore options that offer the best value for your investment.

Reviews: Read reviews and seek recommendations to ensure you choose a cot with a solid reputation for quality and reliability.
Chapter 9: Where to Find Your Ideal Blue Travel Cot
Finding the perfect travel portable cot is an exciting part of preparing for your travels. Here are some popular options for sourcing your ideal cot:
Online Retailers: Websites such as Amazon, eBay, and specialized baby product stores offer a wide range of blue travel cots with detailed descriptions and customer reviews.

Physical Stores: Visit local baby stores or department stores that carry travel gear for in-person inspection of the cots.

Manufacturer's Websites: Check the official websites of travel cot manufacturers for the latest product offerings and specifications.

Recommendations: Ask friends, family, or fellow travelers for recommendations based on their experiences.
Chapter 10: Conclusion
A blue travel cot is not just a piece of travel gear; it's your ticket to a restful adventure. With its compact design, comfort, and safety features, this travel companion has the potential to make your journeys more enjoyable, whether you're traveling with an infant, or toddler, or camping under the stars.
Remember to choose the right travel portable cot that suits your needs, and always prioritize safety when setting it up and using it during your travels. With the right cot by your side, you'll be well-rested and ready to make the most of your travel experiences. So, pack your bags, set up your blue travel cot, and get ready for countless adventures with comfort and convenience at your side.