CBME is an established one-stop trade fair with 22 years' experience of bringing together the movers and shakers in child, baby and maternity industry. Uniting top buyers, manufacturers, distributors, suppliers and sellers together under one roof in Shanghai, China annually. CBME hosts hundreds of quality industrial events, training events, private match making meetings. Awards and industry reports release all year around. As a gateway to key sourcing hubs for child, baby and maternity products and services, CBME now covers the most potential markets in the world and is regarded as a MUST-ATTEND show in the world where the key persons to share knowledge and create business opportunities.
Event Date: June 28-30, 2023
Opening Hours: 9:00-17:30 June 28-29, 2023
9:00-15:00 June 30, 2023
Admission: FREE to trade buyers.
Venue: National Exhibition and Convention Center (NECC)
333 Songze Avenue, Qingpu District, Shanghai
We(Xiamen KSF) will exhibite several new items to our new and old friends. It has been almost 4 years since the virus affected. We believe this is a good stage for both of exhibitors and visitors to connect good relationship.
We will exhibite several new items including folding travel cot, side bed, crib, stroller, bassinet. And it's all certified by SGS.
Come to visit us at 5-1, B13, hope to meet you guys there in June.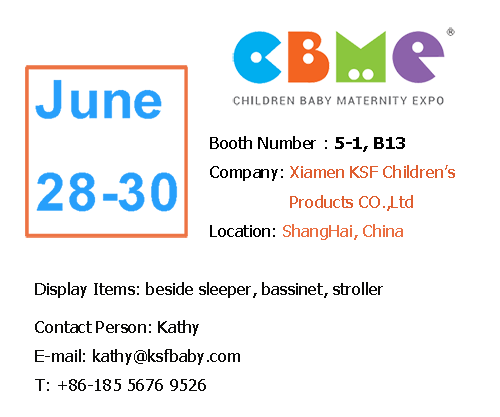 Xiamen KSF Children's Products Co., Ltd. is a Chinese company established in 2013, specializing in the production of safe and high quality baby products. The company is located in Xiamen, a coastal city in southeast China, and was founded by Ray Wu, the manager. With 30 years of experience working in the baby products industry, Ray Wu has built a company that puts product safety and quality first.
The company consists of a professional management team, experienced workers and sales elites who are committed to providing excellent service to our customers. They strive to provide better service to their customers and ensure that all inquiries are resolved in a timely manner.
Xiamen KSF Children's Products Co., Ltd. offers a wide range of products including baby blue travel cot, stroller, car seat, high chair, playpen, excellent fabric playpen etc. Each multifunctional bassinet product is designed with a strong focus on safety and quality. The company uses only the best materials and adheres to strict manufacturing standards to ensure that each product meets the highest level of safety and durability.
The baby blue travel cot is designed to provide a comfortable sleeping space for babies on the go. They are lightweight, easy to install and come with a carry bag for easy storage and transport. The strollers are designed with safety and comfort in mind, with adjustable seats, sun canopies and storage compartments.
Car seats are carefully designed to provide maximum protection for infants during car rides. They meet or exceed safety standards set by regulatory agencies and are designed with features such as side impact protection, adjustable headrests and easy-to-install systems.
High chairs are designed to provide a safe and comfortable feeding space for infants. They come with adjustable height settings, reclining seats and removable trays for easy cleaning.
Infant enclosures and fabric enclosures are designed to provide a safe and secure play area for infants. They are made of durable materials and are equipped with safety locks to prevent accidental opening.
Overall, Xiamen KSF Children's Products Ltd. is a reliable and trustworthy company that puts the safety and quality of its products above all else. With its experienced team and commitment to customer service, the company is committed to providing parents with the best baby products.
Related Products