Specifiche di prodotto
IL newest blue travel cot on wheels is an innovative product specially designed for young parents, using high-quality materials to ensure that the baby is always safe, comfortable and happy. This bassinet is designed so that your baby can sit or lie down easily, which is very important for your baby's growth and development. At the same time, the product is also equipped with wheels, making it easy to carry and move, you can use it at home, on the street or on a trip to provide the best care for your child.
The blue travel cot is made of soft material, so that the baby is always in a soft and comfortable environment. It also comes with an adjustable headrest and waist belt to ensure baby is always in the correct position. Plus, it comes with a seat belt that keeps your baby securely in the bassinet at all times.
Questo prodotto ha anche un angolo di inclinazione regolabile, che consente di regolare l'angolo in base alle esigenze del bambino. Questo è molto importante per il sonno e il riposo del tuo bambino. Inoltre, la culla è dotata di una copertura solare rimovibile per una maggiore protezione e privacy per il bambino.
Best of all, the multifunctional bassinet with wheels is very easy to carry and move. It is lightweight and portable, and can be used anytime, anywhere. The product is also equipped with lockable wheels to keep your baby safe while allowing you to easily move the bassinet to a different position when needed.
In conclusione, la culla per bambini su ruote è un prodotto di alta qualità, comodo, sicuro e portatile, ideale per i genitori alle prime armi per fornire la migliore assistenza. Soddisfa le esigenze di te e del tuo bambino per il massimo comfort e praticità.
Attributi
Il lettino da viaggio blu è realizzato con materiali di alta qualità che sono sicuri per il tuo bambino. È progettato per essere resistente, leggero e facile da spostare. La culla è disponibile in un bellissimo colore blu che è perfetto per qualsiasi arredamento della cameretta. Il prodotto misura 35 pollici di lunghezza, 23 pollici di larghezza e 28 pollici di altezza.
| | |
| --- | --- |
| Oggetto numero.: | KSF168Q |
| Dimensioni spiegate: | 92X58X70 cm |
| Materiale: | Tessuto in alluminio+ferro+PP+lino |
| Accessorio: | Materasso+dondolo |
| Dimensione piega: | 60X20X63cm |
| NO: | 7,29 kg |
| GW: | 8,3 kg |
| Imballaggio: | 1 pz/cartone |
| Certificato | EN1130, ASTM F2194. |
Funzione del prodotto
Cerniera rimovibile: semplifica la pulizia quando è sporca. togliere il rivestimento in tessuto, può essere lavato in lavatrice.

Tessuto a rete su 4 lati: circolazione dell'aria, il bambino ha una visione migliore sdraiato nella culla.

Design quadrato: aumenta il volume della culla, più spazio per far giocare e dormire il bambino.

Materasso con supporto in schiuma e cartone, superficie pelle di pesca: tocco più morbido.

Funzione oscillante: il tubo oscillante può essere ruotato per l'uso o l'arresto. C'è un blocco per il rilascio della funzione dondolo. Quando non è necessario l'oscillazione, basta ruotare per bloccare per garantire la sicurezza.

4 ruote integrate: 4 ruote nascoste, non solo garantiscono la sicurezza, ma facilitano anche lo spostamento.

L'angolo di inclinazione: utilizzo multifunzione: per l'alimentazione del bambino e il cambio del pannolino.
Vantaggi
The Blue Travel Crib offers several advantages, with its portability being a key feature. The crib is designed to be easily movable, allowing you to keep your baby close to you no matter where you are in the house. Whether you need to work in the home office, prepare meals in the kitchen, or relax in the living room, you can bring the crib along and provide a safe and comfortable space for your baby nearby.
The ease of assembly and disassembly is another notable advantage of the Blue Travel Crib. When you need to travel or move the crib to a different location, you can quickly take it apart and pack it up. This convenience saves you time and effort, making it hassle-free to transport the crib. It's especially useful when you're on the go and need to set up a comfortable sleeping space for your baby in a different environment.
Comfort is a priority in the design of the Blue Travel Crib. The bassinet features soft padding that provides a cozy sleeping surface for your baby. The gentle rocking motion of the crib helps lull your baby to sleep, creating a soothing and calming environment. This feature can be particularly beneficial when trying to settle your baby for naps or bedtime.
Additionally, the Blue Travel Crib is equipped with air mesh sides. These mesh panels promote excellent airflow, ensuring proper ventilation within the crib. This ventilation helps to keep your baby comfortable and cool, preventing overheating during sleep or playtime.
In summary, the Blue Travel Crib offers advantages in terms of portability, assembly/disassembly convenience, and comfort. Its easy movability allows you to have your baby close to you wherever you are in the house. The crib's quick assembly and disassembly make it ideal for travel purposes. The soft padding and gentle rocking motion provide comfort and relaxation for your baby. Furthermore, the air mesh sides ensure adequate airflow, keeping your baby cool and comfortable.
Applicazioni
La navicella con ruote è perfetta per l'uso in una varietà di ambienti. Per i nuovi genitori, offre uno spazio per dormire sicuro e confortevole per il tuo bambino proprio accanto al tuo letto. Le ruote facilitano lo spostamento della navicella in base alle esigenze, in modo da poter tenere il bambino sempre vicino.
Il lettino da viaggio blu è ottimo anche per l'uso come lettino da viaggio. Se stai pianificando un viaggio con il tuo bambino, puoi portare con te la culla per assicurarti che il tuo piccolo abbia uno spazio per dormire comodo e familiare ovunque tu vada. Le dimensioni compatte della navicella lo rendono facile da riporre e portare con te in viaggio.
Portabilità e facilità d'uso
IL culla multifunzionale on wheels è un prodotto pensato per essere portatile e facile da usare. Il suo design leggero combinato con le sue ruote lo rendono facile da spostare in casa senza sforzo. Puoi facilmente portare la culla nella tua camera da letto di notte in modo da poter vegliare sul tuo bambino mentre dorme. Durante il giorno, puoi spostarlo in diverse parti della casa in modo che il tuo bambino possa fare un pisolino accanto a te mentre svolgi la tua routine. Poiché la navicella è facile da montare e smontare, può essere smontata rapidamente se devi fare le valigie per un viaggio.
Design accogliente e confortevole
Quando si tratta dell'ambiente di sonno del tuo bambino, il comfort è fondamentale. è progettato per fornire uno spazio per dormire accogliente e confortevole per il tuo bambino. La morbida imbottitura e il delicato movimento a dondolo faranno addormentare il tuo bambino, permettendogli di ottenere il riposo di cui ha bisogno per crescere e svilupparsi. I lati in rete traspirante consentono un'abbondante ventilazione, assicurando che il tuo bambino rimanga comodo e fresco. Inoltre, il baldacchino regolabile fornisce ombra e protezione dalla luce per aiutare il tuo bambino a dormire meglio.
Spazio per dormire sicuro per il tuo bambino
Il lettino da viaggio blu è progettato per offrire uno spazio di sonno sicuro per il tuo bambino. È realizzato con materiali di alta qualità privi di sostanze nocive, assicurando che il tuo bambino non sia esposto a tossine o sostanze chimiche. I lati della navicella sono realizzati in rete traspirante, che consente un ampio flusso d'aria e riduce il rischio di soffocamento. La navicella ha anche un telaio robusto che la mantiene in posizione, impedendole di ribaltarsi o crollare.
Applicazioni versatili della navicella con ruote
Una delle cose migliori è la sua versatilità. Può essere utilizzato in molti contesti diversi, rendendolo un ottimo investimento per qualsiasi nuovo genitore.
Dormiente sul comodino
Come dormiente, la navicella con ruote ti consente di tenere vicino il tuo bambino mentre dormi. Questo rende più facile nutrire e confortare il tuo bambino durante la notte, senza doversi alzare dal letto. Le ruote facilitano l'avvicinamento della navicella al letto, in modo da tenere il bambino a portata di mano.
Lettino da viaggio
è anche un'ottima opzione per i viaggi. È compatto e leggero, il che lo rende facile da trasportare in macchina o in aereo. Le ruote facilitano le manovre negli aeroporti o nelle hall degli hotel e il rapido montaggio e smontaggio ne facilitano l'installazione in qualsiasi luogo.
Box
Infine, la Culla con Ruote può essere utilizzata anche come box. La robusta struttura e il comodo materasso lo rendono un luogo eccellente per far giocare ed esplorare il tuo bambino rimanendo al sicuro. Il baldacchino regolabile fornisce ombra e protezione dalla luce, rendendolo un luogo ideale anche per i giochi all'aperto.
La navicella con ruote è una soluzione per dormire versatile e di alta qualità progettata per neonati e bambini. Ha una varietà di caratteristiche che la distinguono dalle altre culle sul mercato, tra cui un materasso di supporto, un tessuto morbido e una fodera sfoderabile e lavabile. Portatile, versatile e facile da usare, questa culla è un'ottima scelta per le famiglie impegnate. Sia che tu abbia bisogno di una soluzione per dormire per l'uso quotidiano o per i viaggi, la culla con ruote è un'ottima scelta per i genitori che desiderano fornire un ambiente di sonno sicuro e confortevole per il loro neonato o bambino.
In conclusione, la Culla con Ruote è un ottimo investimento per i neo genitori che vogliono offrire al proprio bambino uno spazio dove dormire sicuro, comodo e comodo. La sua portabilità, comfort, sicurezza e versatilità lo rendono un articolo indispensabile per qualsiasi asilo nido. Che tu lo stia utilizzando come cuccetta sul comodino, lettino da viaggio o box, puoi essere certo che il tuo bambino sarà felice, a suo agio e ben riposato nella culla con ruote.
Metodo pieghevole

Come utilizzare la funzione dondolo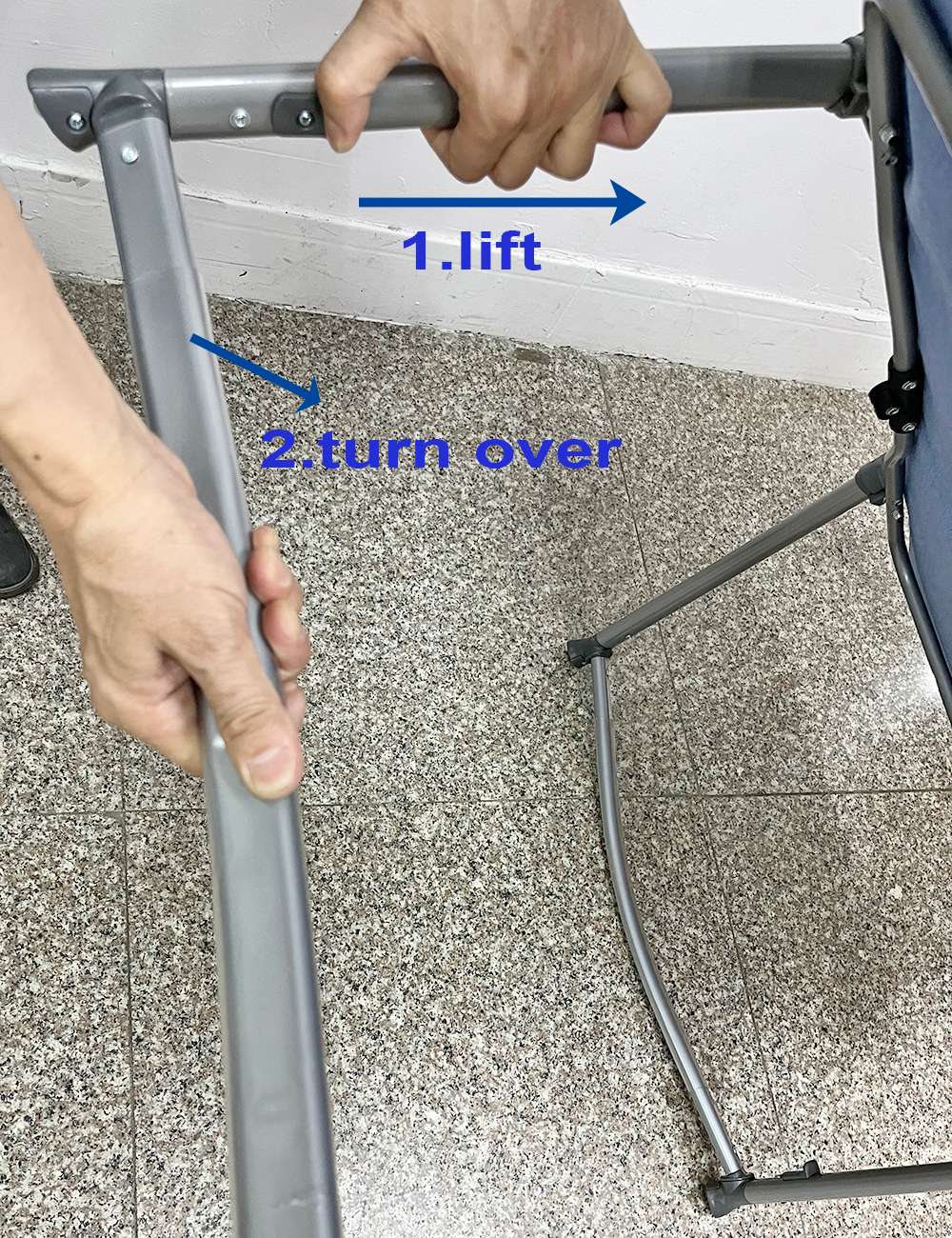 Vantaggi
Vista fabbrica
Informazioni di contatto
Contattaci per discutere di più.
Persona di contatto: Kathy Xiang
E-mail: sales@ksfbaby.com
Traveling, whether for leisure or business, is an exciting pursuit that opens up a world of possibilities. However, one aspect that often goes overlooked is ensuring you get a good night's sleep during your journey. This is where a blue travel cot comes into play, transforming your travel experience by providing a comfortable and secure place to rest. In this comprehensive guide, we'll dive deep into the world of travel portable cots, exploring their product details, advantages, and how they can make your adventures more restful.
Chapter 1: The Blue Travel Cot Revolution
Travel portable cots have gained immense popularity in recent years for their versatility and convenience. These compact sleeping solutions are designed to be portable, lightweight, and easy to set up, making them the perfect choice for anyone on the move. Let's take a closer look at what sets these travel cots apart.
Product Features:
Compact Design: Blue travel cots are designed to be compact and foldable, allowing for easy transportation and storage.

Sturdy Construction: Despite their portability, these cots are built to be robust and durable, ensuring long-lasting use.

Comfortable Mattress: Many travel portable cots come with comfortable mattresses, providing a cozy sleeping space for a good night's rest.

Easy Setup: These cots can be set up quickly and effortlessly, making them ideal for travelers on the go.

Safety First: Travel cots are designed with safety in mind, with features like secure locking mechanisms and breathable materials.
Chapter 2: Advantages of Blue Travel Cots
Travel portable cots offer a range of advantages that make them a must-have for any traveler. Here are some key benefits:
1. Portability:
One of the primary advantages of travel portable cots is their portability. They are lightweight and compact, making them easy to carry, whether you're traveling by car, train, or plane.
2. Comfort:
Many blue travel cots come with comfortable mattresses and padding, ensuring that you get a good night's sleep even when you're away from home.
3. Versatility:
These cots are versatile and can be used for various purposes. They are ideal for camping trips, visiting friends and family, or as a backup sleeping solution at home.
4. Safety:
Travel portable cots are designed with safety in mind, featuring secure locking mechanisms and durable construction. This ensures your little one sleeps safely.
5. Quick Setup:
Setting up a travel portable cot is a breeze. You can have a comfortable sleeping space ready in just minutes, allowing you to focus on your adventures.
6. Durability:
These cots are built to last, with sturdy construction and materials that can withstand the rigors of travel.
Chapter 3: Exploring Blue Travel Cot Options
There are various travel portable cot options available on the market, catering to different preferences and needs. Let's explore a few popular choices:
1. Compact Travel Cot:
Ideal for frequent travelers, compact travel cots are designed to be space-saving and lightweight. They are easy to carry and set up, providing a cozy sleeping space for your journeys.
2. Baby Travel Cot:
If you're traveling with an infant, a baby travel cot is the perfect solution. These cots are designed with the utmost safety and comfort for your little one.
3. Camping Travel Cot:
For outdoor enthusiasts, a camping travel cot offers a comfortable sleeping space while you're exploring the great outdoors. These cots are rugged and built to withstand rough conditions.
4. Toddler Travel Cot:
For families with toddlers, a toddler travel cot provides a secure and comfortable sleeping environment. These cots are often equipped with added safety features.
Chapter 4: Setting Up Your Blue Travel Cot
One of the significant advantages of travel portable cots is their ease of setup. Here are the general steps to set up a standard travel portable cot:
Unfold the Cot: Start by unlocking and unfolding the cot frame. Ensure that all the parts click into place securely.

Attach the Mattress: Many travel portable cots come with a comfortable mattress. Place the mattress at the bottom of the cot.

Secure the Base: Ensure the base is securely locked in position to provide a stable sleeping surface.

Test for Stability: Gently shake the cot to confirm that it's set up sturdily and that all the locking mechanisms are engaged.

Add Bedding: Customize the cot with your preferred bedding, such as sheets and blankets, to create a cozy and comfortable sleeping space.
Chapter 5: Maintaining and Cleaning Your Blue Travel Cot
Proper maintenance and cleanliness are essential to ensure the longevity and comfort of your travel portable cot. Here are some tips:
Regular Cleaning: Wipe down the cot frame and mattress with a damp cloth to remove dirt and stains. Use a mild detergent if needed.

Mattress Care: Air out the mattress regularly to prevent odors and mold. You can also invest in a mattress protector for added hygiene.

Storage: When not in use, store your travel portable cot in a dry and cool place. Ensure it's folded and stored properly to prevent damage.

Check for Wear and Tear: Regularly inspect the cot for any signs of wear and tear, such as loose screws or damaged parts. Replace or repair as needed.
Chapter 6: Innovative Blue Travel Cot Accessories
Enhance your travel cot experience with a range of innovative accessories designed to add convenience and comfort to your journeys:
1. Travel Cot Bag:
A travel cot bag is a convenient accessory for transporting your cot. It keeps your cot protected and makes it easy to carry.
2. Mosquito Net:
When traveling to areas with mosquitos, a mosquito net can help keep your sleeping space bug-free and comfortable.
3. Travel Cot Playpen:
Some travel portable cots can double as playpens, offering a secure space for your little one to play and nap.
4. Travel Cot Canopy:
A canopy can provide shade and privacy, making your cot more versatile for outdoor use.
Chapter 7: Blue Travel Cot Safety Considerations
Safety is paramount when using a blue travel cot, especially when it comes to infants and young children. Here are some safety considerations:
Always follow the manufacturer's instructions for setup and use.

Check for any recalls or safety updates related to your travel cot model.

Ensure that the cot is set up on a flat and stable surface.

Use a firm mattress that fits the cot properly.

Keep the cot away from potential hazards, such as cords, curtains, and other objects.

Check that all locking mechanisms are engaged before placing your child in the cot.

Never leave your child unattended in the cot.
Chapter 8: Choosing the Right Blue Travel Cot
Selecting the right blue travel cot depends on your specific needs and preferences. Consider the following factors:
Purpose: Determine the primary use of the travel cot, whether it's for infants, toddlers, camping, or general travel.

Size: Ensure the cot's dimensions fit your available space and transportation options.

Features: Look for features like a comfortable mattress, safety mechanisms, and ease of setup.

Durability: Opt for a cot with sturdy construction and materials that can withstand the demands of your travel adventures.

Budget: Set a budget for your travel portable cot purchase and explore options that offer the best value for your investment.

Reviews: Read reviews and seek recommendations to ensure you choose a cot with a solid reputation for quality and reliability.
Chapter 9: Where to Find Your Ideal Blue Travel Cot
Finding the perfect travel portable cot is an exciting part of preparing for your travels. Here are some popular options for sourcing your ideal cot:
Online Retailers: Websites such as Amazon, eBay, and specialized baby product stores offer a wide range of blue travel cots with detailed descriptions and customer reviews.

Physical Stores: Visit local baby stores or department stores that carry travel gear for in-person inspection of the cots.

Manufacturer's Websites: Check the official websites of travel cot manufacturers for the latest product offerings and specifications.

Recommendations: Ask friends, family, or fellow travelers for recommendations based on their experiences.
Chapter 10: Conclusion
A blue travel cot is not just a piece of travel gear; it's your ticket to a restful adventure. With its compact design, comfort, and safety features, this travel companion has the potential to make your journeys more enjoyable, whether you're traveling with an infant, or toddler, or camping under the stars.
Remember to choose the right travel portable cot that suits your needs, and always prioritize safety when setting it up and using it during your travels. With the right cot by your side, you'll be well-rested and ready to make the most of your travel experiences. So, pack your bags, set up your blue travel cot, and get ready for countless adventures with comfort and convenience at your side.