Welcoming a newborn into your home is an exciting and joyful experience. As a parent, you want to provide your child with the utmost comfort and safety, especially during those precious first months. One must-have item that can greatly improve your baby's sleeping environment is an extra tall bedside bassinet. But how do you choose the right size and height to ensure a perfect fit for your baby and your bed? In this article, we'll explore some of the key factors to consider when choosing an extra tall bassinet.
Measure your bed and bedroom space: Before delving into the world of extra tall bassinet, it is essential to measure the size of your bed and the available space in your bedroom. Consider the width, length and height of the mattress, as well as any potential obstructions, such as nightstands or room layout constraints. These measurements will serve as a guide for choosing a bassinet that will fit snugly next to your bed without causing any inconvenience.
OPTIMAL HEIGHT FOR EASY ACCESS: One of the key benefits of this extra tall bassinet is the ease it provides for night feedings and soothing your baby. When choosing an extra tall bedside bassinet, choose a height that is consistent with the level of the mattress. This ensures easy access to your baby without straining your back or requiring you to lean too far. Remember, the goal is to keep baby within reach, foster bonding and minimize nighttime disturbances.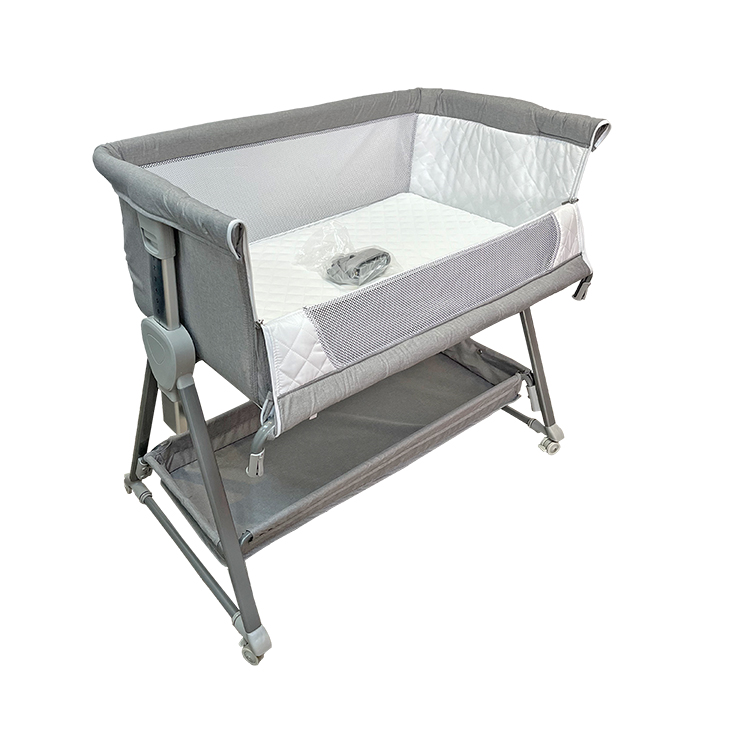 Weight and age restrictions: Be aware of the weight and age restrictions imposed by the manufacturer of the extra tall bedside bassinet. The weight limit for bassinets is usually 15 to 25 pounds, and the age limit is around 5 to 6 months, or until your baby can lift on hands and knees. Choosing a bassinet with the appropriate weight and age limit will ensure your baby is safe and sound in the bassinet.
Adjustable features: Consider a bedside bassinet with adjustable features. Some bassinets offer adjustable mattress height, allowing you to align it perfectly with the bed. This feature is especially useful if you have a high or low mattress. Also, look for bassinets that feature adjustable side walls or sides, which allow easy access to your baby when needed while maintaining a safe sleeping space.
SAFETY STANDARDS AND CERTIFICATIONS: Safety is always a priority when choosing any baby product. Make sure the extra tall bassinet you choose meets the latest safety standards and certifications. Look for bassinets with solid construction, firm mattress support, breathable mesh sides, and well-designed locking mechanisms. Avoid cradles with large gaps or spaces that can be dangerous for your baby.
Portability and storage: If you plan to move the bassinet from room to room or travel with it, consider its portability. Look for bassinets with wheels or a lightweight design for easy maneuvering. Some bassinets also offer folded or compact storage options, which can be useful if you have limited space or plan to store it when not in use.
Extras and accessories: Finally, consider any extras or accessories that can improve your baby's sleeping environment. Some bedside bassinets come with built-in soothing sounds, night lights, vibration settings, or storage compartments for diapers and essentials. While these features are not required, they can make for a more convenient and calming experience for you and your baby.
Choosing the right size and height for your baby's extra tall bedside bassinet requires careful consideration of your bed and bedroom dimensions, optimal access for night care, weight and age restrictions, adjustable features, safety standards, portability and any additional features or Accessories to suit your liking.
By investing the time to research and choose the perfect bedside bassinet, you can create a comfortable and safe sleeping environment for baby, so everyone in the family can rest peacefully and cherish precious early moments together.
Xiamen KSF Children's Products Co., Ltd. focuses on manufacturing safe and high-quality baby products, located in Xiamen, China, established in 2013 by Ray Wu, a manager with 30 years of working experience in the field of baby products. If necessary, welcome your consultation at any time.
Related Products