Spécification de produit
Le newest blue travel cot on wheels is an innovative product specially designed for young parents, using high-quality materials to ensure that the baby is always safe, comfortable and happy. This bassinet is designed so that your baby can sit or lie down easily, which is very important for your baby's growth and development. At the same time, the product is also equipped with wheels, making it easy to carry and move, you can use it at home, on the street or on a trip to provide the best care for your child.
The blue travel cot is made of soft material, so that the baby is always in a soft and comfortable environment. It also comes with an adjustable headrest and waist belt to ensure baby is always in the correct position. Plus, it comes with a seat belt that keeps your baby securely in the bassinet at all times.
Ce produit a également un angle d'inclinaison réglable, vous permettant d'ajuster l'angle en fonction des besoins de votre bébé. Ceci est très important pour le sommeil et le repos de votre bébé. De plus, la nacelle est dotée d'une housse solaire amovible pour une protection et une intimité supplémentaires pour bébé.
Best of all, the multifunctional bassinet with wheels is very easy to carry and move. It is lightweight and portable, and can be used anytime, anywhere. The product is also equipped with lockable wheels to keep your baby safe while allowing you to easily move the bassinet to a different position when needed.
En conclusion, le berceau pour bébé sur roues est un produit de haute qualité, confortable, sûr et portable, idéal pour les parents novices afin de fournir les meilleurs soins. Il répond à vos besoins et à ceux de votre bébé pour un confort et une commodité ultimes.
Les attributs
Le lit de voyage bleu est fabriqué à partir de matériaux de haute qualité sans danger pour votre bébé. Il est conçu pour être durable, léger et facile à déplacer. Le berceau est disponible dans une belle couleur bleue qui est parfaite pour tout décor de chambre d'enfant. Le produit mesure 35 pouces de longueur, 23 pouces de largeur et 28 pouces de hauteur.
| | |
| --- | --- |
| Numéro d'article : | KSF168Q |
| Déplier la taille : | 92X58X70cm |
| Matériel: | Tissu aluminium + fer + PP + lin |
| Accessoire: | Matelas + bascule |
| Taille de pliage : | 60X20X63cm |
| NO : | 7.29KG |
| GW : | 8.3KG |
| Emballage: | 1 pièce/carton |
| Certificat | EN1130, ASTM F2194. |
Fonction du produit
Fermeture éclair amovible : facilite le nettoyage lorsqu'il est sale. enlever la housse en tissu, peut être lavé en machine à laver.

Tissu en maille sur les 4 côtés : circulation de l'air, bébé a une meilleure vue allongé dans la nacelle.

Design carré : agrandissez le volume du berceau, plus d'espace pour que bébé puisse jouer et dormir.

Matelas avec support mousse et planche, surface peau de pêche : toucher plus doux.

Fonction bascule : le tube basculant peut tourner pour l'utiliser ou l'arrêter. Il y a un verrou pour la libération de la fonction de bascule. Lorsqu'il n'est pas nécessaire de basculer, il suffit de tourner pour verrouiller pour assurer la sécurité.

4 roues intégrées : 4 roues cachées, assurent non seulement la sécurité mais facilitent également le déplacement.

L'angle d'inclinaison : utilisation multifonction : pour l'alimentation de bébé et le changement de couche.
Avantages
The Blue Travel Crib offers several advantages, with its portability being a key feature. The crib is designed to be easily movable, allowing you to keep your baby close to you no matter where you are in the house. Whether you need to work in the home office, prepare meals in the kitchen, or relax in the living room, you can bring the crib along and provide a safe and comfortable space for your baby nearby.
The ease of assembly and disassembly is another notable advantage of the Blue Travel Crib. When you need to travel or move the crib to a different location, you can quickly take it apart and pack it up. This convenience saves you time and effort, making it hassle-free to transport the crib. It's especially useful when you're on the go and need to set up a comfortable sleeping space for your baby in a different environment.
Comfort is a priority in the design of the Blue Travel Crib. The bassinet features soft padding that provides a cozy sleeping surface for your baby. The gentle rocking motion of the crib helps lull your baby to sleep, creating a soothing and calming environment. This feature can be particularly beneficial when trying to settle your baby for naps or bedtime.
Additionally, the Blue Travel Crib is equipped with air mesh sides. These mesh panels promote excellent airflow, ensuring proper ventilation within the crib. This ventilation helps to keep your baby comfortable and cool, preventing overheating during sleep or playtime.
In summary, the Blue Travel Crib offers advantages in terms of portability, assembly/disassembly convenience, and comfort. Its easy movability allows you to have your baby close to you wherever you are in the house. The crib's quick assembly and disassembly make it ideal for travel purposes. The soft padding and gentle rocking motion provide comfort and relaxation for your baby. Furthermore, the air mesh sides ensure adequate airflow, keeping your baby cool and comfortable.
Applications
La nacelle à roulettes est parfaite pour une utilisation dans une variété d'environnements. Pour les nouveaux parents, il offre un espace de couchage sûr et confortable pour votre bébé juste à côté de votre lit. Les roues permettent de déplacer facilement la nacelle au besoin, de sorte que vous puissiez garder votre bébé à proximité en tout temps.
Le lit de voyage bleu est également idéal pour être utilisé comme lit de voyage. Si vous prévoyez un voyage avec votre bébé, vous pouvez emporter la nacelle avec vous pour vous assurer que votre tout-petit dispose d'un espace de sommeil confortable et familier, peu importe où vous allez. La taille compacte de la nacelle le rend facile à ranger et à emporter avec vous lors de vos déplacements.
Portabilité et facilité d'utilisation
Le berceau multifonctionnel sur roues est un produit conçu pour être portable et facile à utiliser. Son design léger combiné à ses roues permet de se déplacer facilement dans la maison sans effort. Vous pouvez facilement apporter le berceau dans votre chambre la nuit afin de pouvoir surveiller votre bébé pendant son sommeil. Pendant la journée, vous pouvez le déplacer dans différentes parties de la maison pour que votre bébé puisse faire la sieste à côté de vous pendant que vous effectuez votre routine. Étant donné que la nacelle est facile à monter et à démonter, elle peut être rapidement démontée si vous devez faire vos bagages pour un voyage.
Conception confortable et confortable
Lorsqu'il s'agit de l'environnement de sommeil de votre bébé, le confort est la clé. il est conçu pour offrir un espace de couchage douillet et confortable à votre bébé. Le rembourrage doux et le mouvement de balancement doux apaiseront votre bébé pour dormir, lui permettant d'obtenir le repos dont il a besoin pour grandir et se développer. Les côtés en mesh respirant permettent une bonne ventilation, garantissant que votre bébé reste confortable et au frais. De plus, l'auvent réglable offre de l'ombre et une protection contre la lumière pour aider votre bébé à mieux dormir.
Un espace de couchage sûr pour votre bébé
Le lit de voyage bleu est conçu pour offrir un espace de couchage sûr à votre bébé. Il est fabriqué à partir de matériaux de haute qualité exempts de substances nocives, garantissant que votre bébé n'est pas exposé à des toxines ou à des produits chimiques. Les côtés de la nacelle sont fabriqués à partir de maille respirante, ce qui permet une circulation d'air suffisante et réduit le risque d'étouffement. Le berceau a également un cadre solide qui le maintient en place, l'empêchant de basculer ou de s'effondrer.
Applications polyvalentes du berceau à roulettes
L'une des meilleures choses à ce sujet est sa polyvalence. Il peut être utilisé dans de nombreux contextes différents, ce qui en fait un excellent investissement pour tout nouveau parent.
Dormeur de chevet
En tant que lit de chevet, le berceau à roulettes vous permet de garder votre bébé à proximité pendant que vous dormez. Il est ainsi plus facile de nourrir et de réconforter votre bébé pendant la nuit, sans avoir à sortir du lit. Les roulettes permettent de rapprocher facilement la nacelle de votre lit, afin que vous puissiez garder votre bébé à portée de main.
Lit parapluie
c'est aussi une excellente option pour voyager. Il est compact et léger, ce qui le rend facile à transporter en voiture ou en avion. Les roues facilitent les manœuvres dans les aéroports ou les halls d'hôtel, et le montage et le démontage rapides facilitent l'installation dans n'importe quel endroit.
Parc
Enfin, le berceau à roulettes peut également être utilisé comme parc. Le cadre robuste et le matelas confortable en font un excellent endroit pour que votre bébé puisse jouer et explorer tout en restant en sécurité. L'auvent réglable offre de l'ombre et une protection contre la lumière, ce qui en fait également un endroit idéal pour les jeux en plein air.
Le berceau à roulettes est une solution de sommeil polyvalente de haute qualité conçue pour les nouveau-nés et les nourrissons. Il possède une variété de caractéristiques qui le distinguent des autres moïses sur le marché, notamment un matelas de soutien, un tissu doux et une housse amovible et lavable. Portable, polyvalent et facile à utiliser, ce berceau est un excellent choix pour les familles occupées. Que vous ayez besoin d'une solution de sommeil pour un usage quotidien ou en voyage, la nacelle à roulettes est un excellent choix pour les parents qui cherchent à offrir un environnement de sommeil sûr et confortable à leur nouveau-né ou bébé.
En conclusion, le berceau à roulettes est un excellent investissement pour les nouveaux parents qui souhaitent offrir à leur bébé un espace de couchage sûr, confortable et pratique. Sa portabilité, son confort, sa sécurité et sa polyvalence en font un article indispensable pour toute pépinière. Que vous l'utilisiez comme lit de chevet, lit de voyage ou parc, vous pouvez être sûr que votre bébé sera heureux, confortable et bien reposé dans le berceau à roulettes.
Méthode de pliage

Comment utiliser la fonction bascule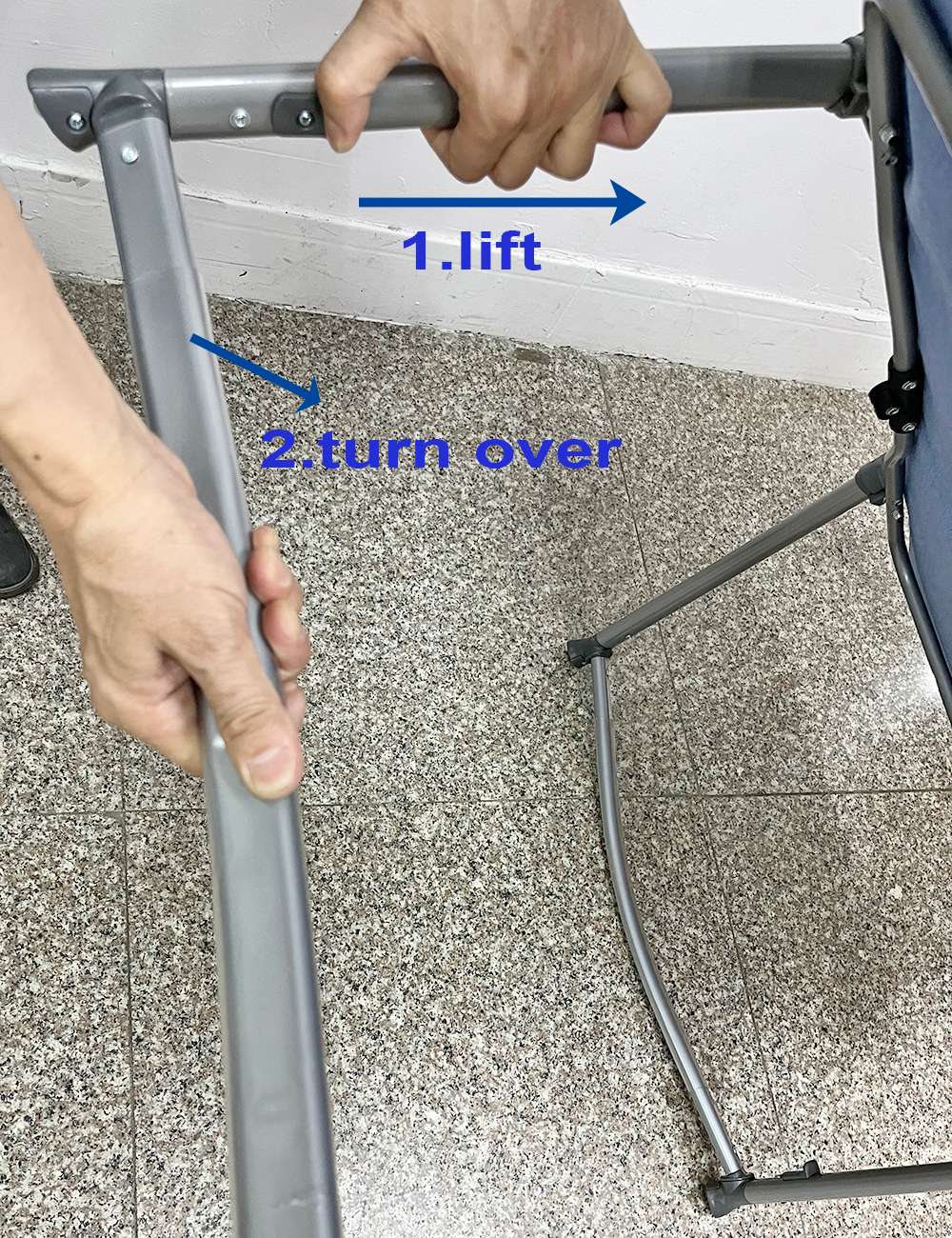 Avantages
Vue d'usine
Informations de contact
Contactez-nous pour en discuter davantage.
Personne à contacter : Kathy Xiang
E-mail: sales@ksfbaby.com
Traveling, whether for leisure or business, is an exciting pursuit that opens up a world of possibilities. However, one aspect that often goes overlooked is ensuring you get a good night's sleep during your journey. This is where a blue travel cot comes into play, transforming your travel experience by providing a comfortable and secure place to rest. In this comprehensive guide, we'll dive deep into the world of travel portable cots, exploring their product details, advantages, and how they can make your adventures more restful.
Chapter 1: The Blue Travel Cot Revolution
Travel portable cots have gained immense popularity in recent years for their versatility and convenience. These compact sleeping solutions are designed to be portable, lightweight, and easy to set up, making them the perfect choice for anyone on the move. Let's take a closer look at what sets these travel cots apart.
Product Features:
Compact Design: Blue travel cots are designed to be compact and foldable, allowing for easy transportation and storage.

Sturdy Construction: Despite their portability, these cots are built to be robust and durable, ensuring long-lasting use.

Comfortable Mattress: Many travel portable cots come with comfortable mattresses, providing a cozy sleeping space for a good night's rest.

Easy Setup: These cots can be set up quickly and effortlessly, making them ideal for travelers on the go.

Safety First: Travel cots are designed with safety in mind, with features like secure locking mechanisms and breathable materials.
Chapter 2: Advantages of Blue Travel Cots
Travel portable cots offer a range of advantages that make them a must-have for any traveler. Here are some key benefits:
1. Portability:
One of the primary advantages of travel portable cots is their portability. They are lightweight and compact, making them easy to carry, whether you're traveling by car, train, or plane.
2. Comfort:
Many blue travel cots come with comfortable mattresses and padding, ensuring that you get a good night's sleep even when you're away from home.
3. Versatility:
These cots are versatile and can be used for various purposes. They are ideal for camping trips, visiting friends and family, or as a backup sleeping solution at home.
4. Safety:
Travel portable cots are designed with safety in mind, featuring secure locking mechanisms and durable construction. This ensures your little one sleeps safely.
5. Quick Setup:
Setting up a travel portable cot is a breeze. You can have a comfortable sleeping space ready in just minutes, allowing you to focus on your adventures.
6. Durability:
These cots are built to last, with sturdy construction and materials that can withstand the rigors of travel.
Chapter 3: Exploring Blue Travel Cot Options
There are various travel portable cot options available on the market, catering to different preferences and needs. Let's explore a few popular choices:
1. Compact Travel Cot:
Ideal for frequent travelers, compact travel cots are designed to be space-saving and lightweight. They are easy to carry and set up, providing a cozy sleeping space for your journeys.
2. Baby Travel Cot:
If you're traveling with an infant, a baby travel cot is the perfect solution. These cots are designed with the utmost safety and comfort for your little one.
3. Camping Travel Cot:
For outdoor enthusiasts, a camping travel cot offers a comfortable sleeping space while you're exploring the great outdoors. These cots are rugged and built to withstand rough conditions.
4. Toddler Travel Cot:
For families with toddlers, a toddler travel cot provides a secure and comfortable sleeping environment. These cots are often equipped with added safety features.
Chapter 4: Setting Up Your Blue Travel Cot
One of the significant advantages of travel portable cots is their ease of setup. Here are the general steps to set up a standard travel portable cot:
Unfold the Cot: Start by unlocking and unfolding the cot frame. Ensure that all the parts click into place securely.

Attach the Mattress: Many travel portable cots come with a comfortable mattress. Place the mattress at the bottom of the cot.

Secure the Base: Ensure the base is securely locked in position to provide a stable sleeping surface.

Test for Stability: Gently shake the cot to confirm that it's set up sturdily and that all the locking mechanisms are engaged.

Add Bedding: Customize the cot with your preferred bedding, such as sheets and blankets, to create a cozy and comfortable sleeping space.
Chapter 5: Maintaining and Cleaning Your Blue Travel Cot
Proper maintenance and cleanliness are essential to ensure the longevity and comfort of your travel portable cot. Here are some tips:
Regular Cleaning: Wipe down the cot frame and mattress with a damp cloth to remove dirt and stains. Use a mild detergent if needed.

Mattress Care: Air out the mattress regularly to prevent odors and mold. You can also invest in a mattress protector for added hygiene.

Storage: When not in use, store your travel portable cot in a dry and cool place. Ensure it's folded and stored properly to prevent damage.

Check for Wear and Tear: Regularly inspect the cot for any signs of wear and tear, such as loose screws or damaged parts. Replace or repair as needed.
Chapter 6: Innovative Blue Travel Cot Accessories
Enhance your travel cot experience with a range of innovative accessories designed to add convenience and comfort to your journeys:
1. Travel Cot Bag:
A travel cot bag is a convenient accessory for transporting your cot. It keeps your cot protected and makes it easy to carry.
2. Mosquito Net:
When traveling to areas with mosquitos, a mosquito net can help keep your sleeping space bug-free and comfortable.
3. Travel Cot Playpen:
Some travel portable cots can double as playpens, offering a secure space for your little one to play and nap.
4. Travel Cot Canopy:
A canopy can provide shade and privacy, making your cot more versatile for outdoor use.
Chapter 7: Blue Travel Cot Safety Considerations
Safety is paramount when using a blue travel cot, especially when it comes to infants and young children. Here are some safety considerations:
Always follow the manufacturer's instructions for setup and use.

Check for any recalls or safety updates related to your travel cot model.

Ensure that the cot is set up on a flat and stable surface.

Use a firm mattress that fits the cot properly.

Keep the cot away from potential hazards, such as cords, curtains, and other objects.

Check that all locking mechanisms are engaged before placing your child in the cot.

Never leave your child unattended in the cot.
Chapter 8: Choosing the Right Blue Travel Cot
Selecting the right blue travel cot depends on your specific needs and preferences. Consider the following factors:
Purpose: Determine the primary use of the travel cot, whether it's for infants, toddlers, camping, or general travel.

Size: Ensure the cot's dimensions fit your available space and transportation options.

Features: Look for features like a comfortable mattress, safety mechanisms, and ease of setup.

Durability: Opt for a cot with sturdy construction and materials that can withstand the demands of your travel adventures.

Budget: Set a budget for your travel portable cot purchase and explore options that offer the best value for your investment.

Reviews: Read reviews and seek recommendations to ensure you choose a cot with a solid reputation for quality and reliability.
Chapter 9: Where to Find Your Ideal Blue Travel Cot
Finding the perfect travel portable cot is an exciting part of preparing for your travels. Here are some popular options for sourcing your ideal cot:
Online Retailers: Websites such as Amazon, eBay, and specialized baby product stores offer a wide range of blue travel cots with detailed descriptions and customer reviews.

Physical Stores: Visit local baby stores or department stores that carry travel gear for in-person inspection of the cots.

Manufacturer's Websites: Check the official websites of travel cot manufacturers for the latest product offerings and specifications.

Recommendations: Ask friends, family, or fellow travelers for recommendations based on their experiences.
Chapter 10: Conclusion
A blue travel cot is not just a piece of travel gear; it's your ticket to a restful adventure. With its compact design, comfort, and safety features, this travel companion has the potential to make your journeys more enjoyable, whether you're traveling with an infant, or toddler, or camping under the stars.
Remember to choose the right travel portable cot that suits your needs, and always prioritize safety when setting it up and using it during your travels. With the right cot by your side, you'll be well-rested and ready to make the most of your travel experiences. So, pack your bags, set up your blue travel cot, and get ready for countless adventures with comfort and convenience at your side.