Choosing the right baby gear can be a daunting task for new parents. One of the most important items on the checklist is getting a bassinet for your newborn. A bedside bassinet can make nighttime feedings and diaper changes easier while giving you added peace of mind by keeping your baby close by. If you're in the market for an Extrahoher Nachttisch, there are a few key features to look for to ensure you're getting the best and safest option for your baby.
Einführung
When choosing a bedside multifunctional bassinet, there are several key features you should consider to ensure your baby's safety, convenience, and comfort. The Extra Tall Bedside Bassinet is a great option for taller parents or those who prefer to give their baby a higher sleeping surface. These extra tall bedside bassinets come with a range of features, so it's important to know what to look for before buying.
Security Features
When choosing a bedside bassinet, your baby's safety is the most important consideration. Here are some features to look out for to make sure your baby is safe and secure in their sleeping space.
A. Sturdy frame and base
A sturdy frame and base are essential for a stable and safe sleeping space. Look for a multifunctional bassinet that has the right weight for your baby. The sturdy frame and base also prevent the bassinet from tipping over or collapsing.
B. Breathable mesh wall
The breathable mesh walls not only provide ventilation for your baby, but also allow you to watch them while they sleep. The mesh walls also prevent baby from getting caught or caught in any loose fabric or bedding.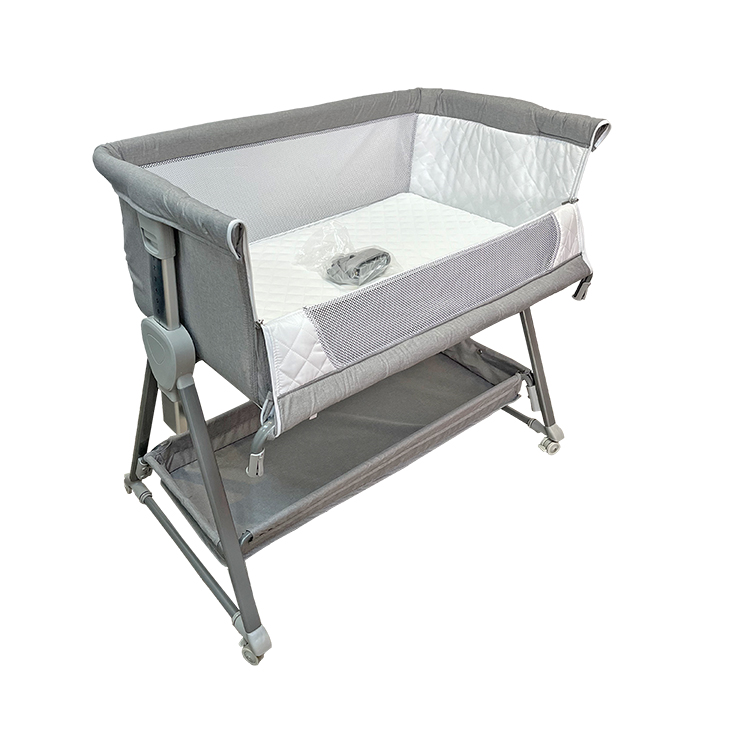 C. Adjustable height
The height-adjustable feature is crucial for bedside bassinets. It allows you to adjust the height of the bassinet to match the height of your bed, which makes it easier to pick up your baby and put them back in place without straining or bending over.
D. Locking mechanism
The locking mechanism ensures that the bassinet is securely attached to your bed, preventing accidental displacement or movement. A good locking mechanism also ensures the stability of the extra tall bedside bassinet from shifting or tipping over.
Convenient Features
When caring for a newborn, convenience is key. Here are some features to look for that will make your life easier.
A. Storage bag
The storage pocket is a handy feature for storing baby essentials such as diapers, wipes, and blankets. With these items, you won't have to get up and rummage through the nursery every time you need something.
B. Wheels or Portability
Bassinets with wheels or mobility are ideal for parents who are constantly moving around the house. Being able to move the bassinet from room to room means your baby can always be there.
C. easy to clean
An easy-to-clean cradle is a must. Look for a mattress that is removable and washable, and a bassinet with a wipeable surface. This will make cleaning up any spills or messes a breeze.
D. Removable and washable mattresses
Removable and washable mattresses are not only convenient but also hygienic. Being able to remove and wash the mattress ensures that baby sleeps on a clean and fresh surface, free of germs and allergens.
Comfort functions
Your baby's comfort is also an important consideration. Here are some features to look out for to ensure your baby's comfort while sleeping.
A. Soft and comfortable mattress
A soft and comfortable mattress is essential to your baby's comfort. Look for a bassinet with a firm, supportive mattress that's also soft and comfortable.
B. Rotate or shake function
The swivel or shake function can help soothe your baby to sleep. It can also help when trying to get baby to sleep.
C. Roof or sun visor
A canopy or shade can be a useful feature to block out the light and provide a comfortable sleeping environment for your baby. It also helps protect your baby from any drafts or cold air.
SIZE AND WEIGHT LIMITATIONS
When choosing an extra tall bedside bassinet, it is important to consider size and weight restrictions. Here are some things to keep in mind.
Load capacity:Make sure you choose a bassinet with the right weight for your baby. A bassinet with too low a weight capacity can be dangerous and unstable.
Size restrictions:Take your bedroom and bed dimensions into consideration when choosing a co sleeper bassinet for tall bed. Make sure the bassinet fits snugly and doesn't take up too much space.
Price range
Bedside bassinets come in a range of prices, from budget-friendly to high-end. Here are some things to keep in mind when it comes to price.
A. Compare prices
Compare prices from different brands to make sure you're getting the most for your money.
B. What to expect in different price ranges
Pricier bassinets may have extra features or higher-quality materials, but that doesn't necessarily mean they're the best choice for you and your baby. Take your budget and priorities into account when making your decision.
Abschluss
Choosing the right extra tall bedside bassinet for your baby can be overwhelming, but by considering safety, convenience, comfort, size and price, you can find the perfect multifunktionaler Stubenwagen for your family. Look for features such as sturdy construction, breathable mesh walls, adjustable height, locking mechanism, storage pockets, portability, easy-to-clean surface, removable and washable mattress, swivel or shake function, and rain Canopy or sun visor. With the right bedside bassinet, you can ensure your baby sleeps soundly and safely, while also making life a little easier for you as a new parent.
Verwandte Produkte