Produktspezifikation
Der newest blue travel cot on wheels is an innovative product specially designed for young parents, using high-quality materials to ensure that the baby is always safe, comfortable and happy. This bassinet is designed so that your baby can sit or lie down easily, which is very important for your baby's growth and development. At the same time, the product is also equipped with wheels, making it easy to carry and move, you can use it at home, on the street or on a trip to provide the best care for your child.
The blue travel cot is made of soft material, so that the baby is always in a soft and comfortable environment. It also comes with an adjustable headrest and waist belt to ensure baby is always in the correct position. Plus, it comes with a seat belt that keeps your baby securely in the bassinet at all times.
Dieses Produkt verfügt außerdem über einen einstellbaren Neigungswinkel, sodass Sie den Winkel an die Bedürfnisse Ihres Babys anpassen können. Dies ist sehr wichtig für den Schlaf und die Ruhe Ihres Babys. Darüber hinaus verfügt der Stubenwagen über eine abnehmbare Sonnenabdeckung für zusätzlichen Schutz und Privatsphäre für das Baby.
Best of all, the multifunctional bassinet with wheels is very easy to carry and move. It is lightweight and portable, and can be used anytime, anywhere. The product is also equipped with lockable wheels to keep your baby safe while allowing you to easily move the bassinet to a different position when needed.
Zusammenfassend lässt sich sagen, dass der Baby-Stubenwagen auf Rädern ein hochwertiges, komfortables, sicheres und tragbares Produkt ist, das sich ideal für unerfahrene Eltern eignet, um die beste Pflege zu gewährleisten. Es erfüllt die Bedürfnisse von Ihnen und Ihrem Baby nach ultimativem Komfort und Bequemlichkeit.
Attribute
Das Reisebett Blau besteht aus hochwertigen Materialien, die für Ihr Baby sicher sind. Es ist langlebig, leicht und leicht zu transportieren. Der Stubenwagen ist in einer wunderschönen blauen Farbe erhältlich, die perfekt zu jeder Kinderzimmereinrichtung passt. Das Produkt ist 35 Zoll lang, 23 Zoll breit und 28 Zoll hoch.
| | |
| --- | --- |
| Art.-Nr.: | KSF168Q |
| Entfaltungsgröße: | 92X58X70cm |
| Material: | Aluminium+Eisen+PP+Leinengewebe |
| Zubehörteil: | Matratze+Schaukel |
| Faltgröße: | 60X20X63cm |
| NW: | 7,29 kg |
| GW: | 8,3 kg |
| Verpackung: | 1 Stück/Karton |
| Zertifikat | EN1130, ASTM F2194. |
Produktfunktion
Abnehmbarer Reißverschluss: Erleichtert die Reinigung bei Verschmutzung. Nehmen Sie den Stoffbezug ab und können Sie ihn in der Waschmaschine waschen.

4-seitiges Netzgewebe: Luftzirkulation, bessere Sicht für das Baby im Stubenwagen.

Quadratisches Design: Vergrößern Sie das Volumen des Stubenwagens, mehr Platz für das Baby zum Spielen und Schlafen.

Matratze mit Schaumstoff und Brettauflage, Oberfläche aus Pfirsichhaut: weicher im Griff.

Schaukelfunktion: Das Schaukelrohr kann zum Benutzen oder Stoppen gedreht werden. Für die Freigabe der Wippfunktion ist eine Sperre vorhanden. Wenn Sie das Schaukeln nicht benötigen, drehen Sie es einfach, um es zu verriegeln, um die Sicherheit zu gewährleisten.

4 integrierte Räder: 4 versteckte Räder sorgen nicht nur für Sicherheit, sondern erleichtern auch das Bewegen.

Der Neigungswinkel: Multifunktionsnutzung: zum Babyfüttern und Windelwechseln.
Vorteile
The Blue Travel Crib offers several advantages, with its portability being a key feature. The crib is designed to be easily movable, allowing you to keep your baby close to you no matter where you are in the house. Whether you need to work in the home office, prepare meals in the kitchen, or relax in the living room, you can bring the crib along and provide a safe and comfortable space for your baby nearby.
The ease of assembly and disassembly is another notable advantage of the Blue Travel Crib. When you need to travel or move the crib to a different location, you can quickly take it apart and pack it up. This convenience saves you time and effort, making it hassle-free to transport the crib. It's especially useful when you're on the go and need to set up a comfortable sleeping space for your baby in a different environment.
Comfort is a priority in the design of the Blue Travel Crib. The bassinet features soft padding that provides a cozy sleeping surface for your baby. The gentle rocking motion of the crib helps lull your baby to sleep, creating a soothing and calming environment. This feature can be particularly beneficial when trying to settle your baby for naps or bedtime.
Additionally, the Blue Travel Crib is equipped with air mesh sides. These mesh panels promote excellent airflow, ensuring proper ventilation within the crib. This ventilation helps to keep your baby comfortable and cool, preventing overheating during sleep or playtime.
In summary, the Blue Travel Crib offers advantages in terms of portability, assembly/disassembly convenience, and comfort. Its easy movability allows you to have your baby close to you wherever you are in the house. The crib's quick assembly and disassembly make it ideal for travel purposes. The soft padding and gentle rocking motion provide comfort and relaxation for your baby. Furthermore, the air mesh sides ensure adequate airflow, keeping your baby cool and comfortable.
Anwendungen
Der Stubenwagen mit Rollen eignet sich perfekt für den Einsatz in verschiedenen Umgebungen. Für frischgebackene Eltern bietet es einen sicheren und bequemen Schlafplatz für Ihr Baby direkt neben Ihrem Bett. Mit den Rädern lässt sich der Stubenwagen je nach Bedarf leicht bewegen, sodass Sie Ihr Baby immer in der Nähe haben.
Das Reisebett Blau eignet sich auch hervorragend als Reisebett. Wenn Sie eine Reise mit Ihrem Baby planen, können Sie den Stubenwagen mitnehmen, um sicherzustellen, dass Ihr Kleines überall einen bequemen und vertrauten Schlafplatz hat. Die kompakte Größe des Stubenwagens erleichtert das Packen und Mitnehmen für unterwegs.
Portabilität und Benutzerfreundlichkeit
Der multifunktionaler Stubenwagen auf Rädern ist ein Produkt, das tragbar und einfach zu bedienen ist. Dank seines leichten Designs und der Räder lässt er sich mühelos im Haus bewegen. Sie können den Stubenwagen nachts problemlos in Ihr Schlafzimmer bringen, damit Sie während des Schlafens auf Ihr Baby aufpassen können. Tagsüber können Sie es an verschiedene Stellen im Haus bringen, sodass Ihr Baby neben Ihnen schlafen kann, während Sie Ihrer Routine nachgehen. Da sich der Stubenwagen leicht auf- und abbauen lässt, kann er schnell auseinandergebaut werden, wenn Sie für eine Reise etwas packen müssen.
Gemütliches und komfortables Design
Wenn es um die Schlafumgebung Ihres Babys geht, ist Komfort der Schlüssel. Es ist so konzipiert, dass es Ihrem Baby einen gemütlichen und komfortablen Schlafplatz bietet. Die weiche Polsterung und die sanften Schaukelbewegungen beruhigen Ihr Baby beim Schlafen und geben ihm die Ruhe, die es zum Wachsen und Entwickeln braucht. Die atmungsaktiven Mesh-Seiten sorgen für ausreichend Belüftung und sorgen dafür, dass Ihr Baby bequem und kühl bleibt. Darüber hinaus bietet das verstellbare Verdeck Schatten und Lichtschutz, damit Ihr Baby besser schlafen kann.
Sicherer Schlafplatz für Ihr Baby
Das Reisebett Blau ist so konzipiert, dass es Ihrem Baby einen sicheren Schlafplatz bietet. Es besteht aus hochwertigen Materialien, die frei von Schadstoffen sind, sodass Ihr Baby keinen Giftstoffen oder Chemikalien ausgesetzt ist. Die Seiten des Stubenwagens bestehen aus atmungsaktivem Netzgewebe, das eine ausreichende Luftzirkulation ermöglicht und die Erstickungsgefahr verringert. Der Stubenwagen verfügt außerdem über einen stabilen Rahmen, der ihn an Ort und Stelle hält und verhindert, dass er umkippt oder zusammenbricht.
Vielseitige Einsatzmöglichkeiten des Stubenwagens mit Rollen
Eines der besten Dinge daran ist seine Vielseitigkeit. Es kann in vielen verschiedenen Situationen eingesetzt werden und ist somit eine ausgezeichnete Investition für alle frischgebackenen Eltern.
Bettschläfer
Als Nachtbett ermöglicht Ihnen der Stubenwagen mit Rollen, Ihr Baby beim Schlafen in der Nähe zu haben. Dies macht es einfacher, Ihr Baby nachts zu füttern und zu trösten, ohne das Bett verlassen zu müssen. Mit den Rädern können Sie den Stubenwagen ganz einfach näher an Ihr Bett rücken, sodass Sie Ihr Baby immer in Reichweite haben.
Reisebett
Es ist auch eine großartige Option für Reisen. Es ist kompakt und leicht und lässt sich daher problemlos im Auto oder Flugzeug transportieren. Die Räder erleichtern das Manövrieren durch Flughäfen oder Hotellobbys und der schnelle Auf- und Abbau erleichtert die Aufstellung an jedem Ort.
Laufstall
Schließlich kann der Stubenwagen mit Rädern auch als Laufstall verwendet werden. Der stabile Rahmen und die bequeme Matratze machen es zu einem hervorragenden Ort für Ihr Baby zum Spielen und Entdecken, während es gleichzeitig sicher und geborgen bleibt. Das verstellbare Vordach spendet Schatten und schützt vor Licht und ist somit auch ein toller Ort zum Spielen im Freien.
Der Stubenwagen mit Rollen ist eine hochwertige, vielseitige Schlaflösung für Neugeborene und Kleinkinder. Es verfügt über eine Vielzahl von Merkmalen, die es von anderen Stubenwagen auf dem Markt abheben, darunter eine Stützmatratze, weichen Stoff und einen abnehmbaren und waschbaren Bezug. Dieser tragbare, vielseitige und einfach zu bedienende Stubenwagen ist eine großartige Wahl für vielbeschäftigte Familien. Egal, ob Sie eine Schlaflösung für den täglichen Gebrauch oder auf Reisen benötigen, der Stubenwagen mit Rollen ist eine gute Wahl für Eltern, die ihrem Neugeborenen oder Kleinkind eine sichere und komfortable Schlafumgebung bieten möchten.
Zusammenfassend lässt sich sagen, dass der Stubenwagen mit Rädern eine ausgezeichnete Investition für frischgebackene Eltern ist, die ihrem Baby einen sicheren, bequemen und bequemen Schlafplatz bieten möchten. Seine Tragbarkeit, sein Komfort, seine Sicherheit und seine Vielseitigkeit machen es zu einem Must-have für jedes Kinderzimmer. Ob Sie es als Beistellbett, Reisebett oder Laufstall verwenden, Sie können sicher sein, dass Ihr Baby im Stubenwagen mit Rädern glücklich, bequem und ausgeruht ist.
Faltmethode

So nutzen Sie die Wippfunktion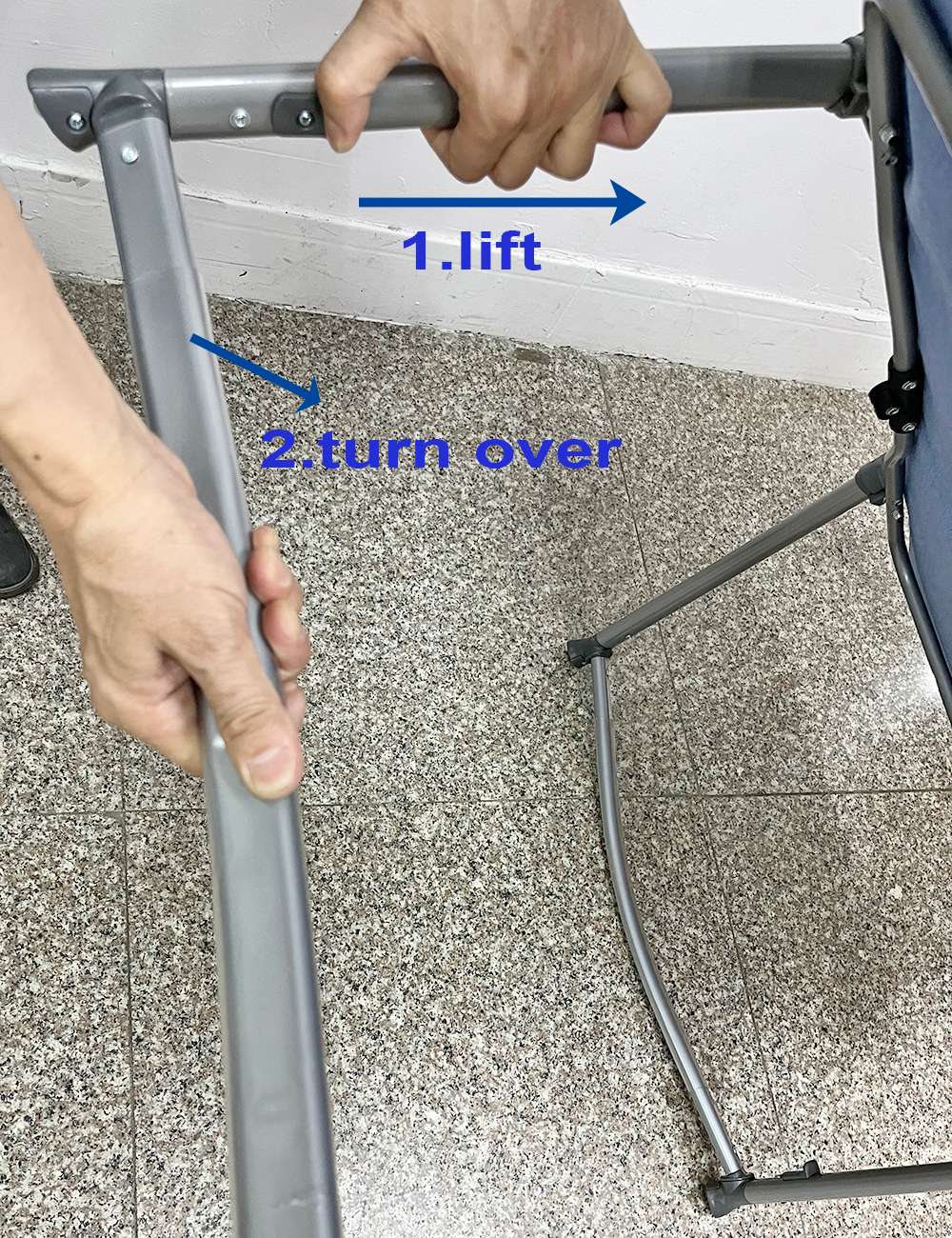 Vorteile
Fabrikansicht
Kontaktinformation
Kontaktieren Sie uns, um mehr zu besprechen.
Ansprechpartner: Kathy Xiang
Email: sales@ksfbaby.com
Traveling, whether for leisure or business, is an exciting pursuit that opens up a world of possibilities. However, one aspect that often goes overlooked is ensuring you get a good night's sleep during your journey. This is where a blue travel cot comes into play, transforming your travel experience by providing a comfortable and secure place to rest. In this comprehensive guide, we'll dive deep into the world of travel portable cots, exploring their product details, advantages, and how they can make your adventures more restful.
Chapter 1: The Blue Travel Cot Revolution
Travel portable cots have gained immense popularity in recent years for their versatility and convenience. These compact sleeping solutions are designed to be portable, lightweight, and easy to set up, making them the perfect choice for anyone on the move. Let's take a closer look at what sets these travel cots apart.
Product Features:
Compact Design: Blue travel cots are designed to be compact and foldable, allowing for easy transportation and storage.

Sturdy Construction: Despite their portability, these cots are built to be robust and durable, ensuring long-lasting use.

Comfortable Mattress: Many travel portable cots come with comfortable mattresses, providing a cozy sleeping space for a good night's rest.

Easy Setup: These cots can be set up quickly and effortlessly, making them ideal for travelers on the go.

Safety First: Travel cots are designed with safety in mind, with features like secure locking mechanisms and breathable materials.
Chapter 2: Advantages of Blue Travel Cots
Travel portable cots offer a range of advantages that make them a must-have for any traveler. Here are some key benefits:
1. Portability:
One of the primary advantages of travel portable cots is their portability. They are lightweight and compact, making them easy to carry, whether you're traveling by car, train, or plane.
2. Comfort:
Many blue travel cots come with comfortable mattresses and padding, ensuring that you get a good night's sleep even when you're away from home.
3. Versatility:
These cots are versatile and can be used for various purposes. They are ideal for camping trips, visiting friends and family, or as a backup sleeping solution at home.
4. Safety:
Travel portable cots are designed with safety in mind, featuring secure locking mechanisms and durable construction. This ensures your little one sleeps safely.
5. Quick Setup:
Setting up a travel portable cot is a breeze. You can have a comfortable sleeping space ready in just minutes, allowing you to focus on your adventures.
6. Durability:
These cots are built to last, with sturdy construction and materials that can withstand the rigors of travel.
Chapter 3: Exploring Blue Travel Cot Options
There are various travel portable cot options available on the market, catering to different preferences and needs. Let's explore a few popular choices:
1. Compact Travel Cot:
Ideal for frequent travelers, compact travel cots are designed to be space-saving and lightweight. They are easy to carry and set up, providing a cozy sleeping space for your journeys.
2. Baby Travel Cot:
If you're traveling with an infant, a baby travel cot is the perfect solution. These cots are designed with the utmost safety and comfort for your little one.
3. Camping Travel Cot:
For outdoor enthusiasts, a camping travel cot offers a comfortable sleeping space while you're exploring the great outdoors. These cots are rugged and built to withstand rough conditions.
4. Toddler Travel Cot:
For families with toddlers, a toddler travel cot provides a secure and comfortable sleeping environment. These cots are often equipped with added safety features.
Chapter 4: Setting Up Your Blue Travel Cot
One of the significant advantages of travel portable cots is their ease of setup. Here are the general steps to set up a standard travel portable cot:
Unfold the Cot: Start by unlocking and unfolding the cot frame. Ensure that all the parts click into place securely.

Attach the Mattress: Many travel portable cots come with a comfortable mattress. Place the mattress at the bottom of the cot.

Secure the Base: Ensure the base is securely locked in position to provide a stable sleeping surface.

Test for Stability: Gently shake the cot to confirm that it's set up sturdily and that all the locking mechanisms are engaged.

Add Bedding: Customize the cot with your preferred bedding, such as sheets and blankets, to create a cozy and comfortable sleeping space.
Chapter 5: Maintaining and Cleaning Your Blue Travel Cot
Proper maintenance and cleanliness are essential to ensure the longevity and comfort of your travel portable cot. Here are some tips:
Regular Cleaning: Wipe down the cot frame and mattress with a damp cloth to remove dirt and stains. Use a mild detergent if needed.

Mattress Care: Air out the mattress regularly to prevent odors and mold. You can also invest in a mattress protector for added hygiene.

Storage: When not in use, store your travel portable cot in a dry and cool place. Ensure it's folded and stored properly to prevent damage.

Check for Wear and Tear: Regularly inspect the cot for any signs of wear and tear, such as loose screws or damaged parts. Replace or repair as needed.
Chapter 6: Innovative Blue Travel Cot Accessories
Enhance your travel cot experience with a range of innovative accessories designed to add convenience and comfort to your journeys:
1. Travel Cot Bag:
A travel cot bag is a convenient accessory for transporting your cot. It keeps your cot protected and makes it easy to carry.
2. Mosquito Net:
When traveling to areas with mosquitos, a mosquito net can help keep your sleeping space bug-free and comfortable.
3. Travel Cot Playpen:
Some travel portable cots can double as playpens, offering a secure space for your little one to play and nap.
4. Travel Cot Canopy:
A canopy can provide shade and privacy, making your cot more versatile for outdoor use.
Chapter 7: Blue Travel Cot Safety Considerations
Safety is paramount when using a blue travel cot, especially when it comes to infants and young children. Here are some safety considerations:
Always follow the manufacturer's instructions for setup and use.

Check for any recalls or safety updates related to your travel cot model.

Ensure that the cot is set up on a flat and stable surface.

Use a firm mattress that fits the cot properly.

Keep the cot away from potential hazards, such as cords, curtains, and other objects.

Check that all locking mechanisms are engaged before placing your child in the cot.

Never leave your child unattended in the cot.
Chapter 8: Choosing the Right Blue Travel Cot
Selecting the right blue travel cot depends on your specific needs and preferences. Consider the following factors:
Purpose: Determine the primary use of the travel cot, whether it's for infants, toddlers, camping, or general travel.

Size: Ensure the cot's dimensions fit your available space and transportation options.

Features: Look for features like a comfortable mattress, safety mechanisms, and ease of setup.

Durability: Opt for a cot with sturdy construction and materials that can withstand the demands of your travel adventures.

Budget: Set a budget for your travel portable cot purchase and explore options that offer the best value for your investment.

Reviews: Read reviews and seek recommendations to ensure you choose a cot with a solid reputation for quality and reliability.
Chapter 9: Where to Find Your Ideal Blue Travel Cot
Finding the perfect travel portable cot is an exciting part of preparing for your travels. Here are some popular options for sourcing your ideal cot:
Online Retailers: Websites such as Amazon, eBay, and specialized baby product stores offer a wide range of blue travel cots with detailed descriptions and customer reviews.

Physical Stores: Visit local baby stores or department stores that carry travel gear for in-person inspection of the cots.

Manufacturer's Websites: Check the official websites of travel cot manufacturers for the latest product offerings and specifications.

Recommendations: Ask friends, family, or fellow travelers for recommendations based on their experiences.
Chapter 10: Conclusion
A blue travel cot is not just a piece of travel gear; it's your ticket to a restful adventure. With its compact design, comfort, and safety features, this travel companion has the potential to make your journeys more enjoyable, whether you're traveling with an infant, or toddler, or camping under the stars.
Remember to choose the right travel portable cot that suits your needs, and always prioritize safety when setting it up and using it during your travels. With the right cot by your side, you'll be well-rested and ready to make the most of your travel experiences. So, pack your bags, set up your blue travel cot, and get ready for countless adventures with comfort and convenience at your side.